Get Drunk with Dignity T-shirts
$20 Shipped!
Finally, you can be both fashionable and responsible when you party with the Get Drunk With Dignity T-shirt. Based on the words of wisdom from my song, "Get Drunk with Dignity," you can impress your friends and relatives with the valuable advice found on the back of the T-shirt: "If a bar has human ears nailed to the walls, don't pass out there."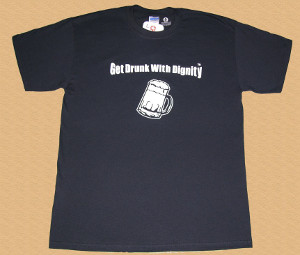 Front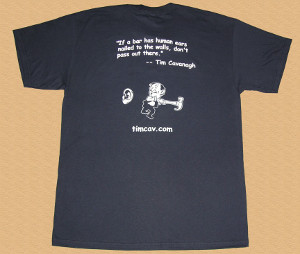 Back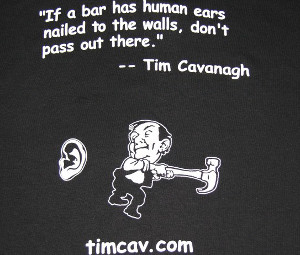 Close-up of back
T-shirts are $20.00 (US) each.
Free standard shipping.
(First Class USPS) for all US domestic orders. Express (1-2 day) shipping is available (charges apply). Please allow 2-7 days for Standard Shipping. Most orders will be shipped within 24 hours from receipt of order (Mon-Fri). Made of 100% Gildan Ultra Cotton, available in black with white lettering only, in sizes: Medium, Large, X-Large and 2X. Note: Hits & Giggles Records, LLC will appear on your credit card receipt as the seller of the T-Shirt.
Returns, Refunds and Exchanges Policy
How To Return An Item
Your item must be in its original unused condition to be returned, unless there is a manufacturer defect. You must return the item within 30 days of your purchase.
Please email timcav@timcav.com to request a refund.
Mail your returned item to:
Hits & Giggles Records, LLC
Returns
P.O. Box 1077
Orland Park, IL 60462
Include in your package a signed letter stating the reason for your return and a copy of your receipt.
After we receive your returned item, we will credit your account for the full purchase price, plus any original shipping costs paid by you.
Return Exceptions
Merchandise that has been worn, used, or altered will not be accepted for return or exchange.
Exchanges
If your clothing item is like new condition, you may exchange your clothing item for a different size. You will not be required to pay a shipping fee for the new size item if it is shipped by standard shipping (i.e., 2-7 business days). You are responsible for the return shipping of the original item.
Shipping Policy
Most orders will be shipped within 24 hours of receipts of your order. We ship using USPS first class service.
If your item is on backorder, we will notify you and will give you an expected delivery date.
Privacy Policy
We take your privacy SERIOUSLY and will take all measures to protect your personal information. We will never share or sell your information.
Customer Service
For Customer Service call (708) 403-9219 or write timcav@timcav.com