Win a Prize
Enter my drawing to win a tube of 1D Fresh Mint flavored Colgate Toothpaste!!!
When it comes to dental hygiene, four out of five members of the boy band One Direction recommend 1D Toothpaste for those who brush. (The one dissenter was band member Harry Styles, whose expertise really lies more in the area of coiffures, as his name indicates). Take it from Niall and Zayn (correctly misspelled) and Louis and Liam, "What Makes You Beautiful" is fresh minty breath and a great smile.
CONTEST RULES: One winner will be chosen from all eligible entries. Please, only one entry per person. IF YOU DO NOT BRUSH YOUR TEETH, PLEASE DO NOT ENTER THE CONTEST. Let the toothpaste go to someone who will use it. The fact that this prize contains "flouride" is in no way an endorsement of the music of Flo Rida. Winner will be drawn in near future and prize will be sent from a United States Post Office nowhere near my residence (so do not think that you'll be able to figure out where I live based on the Post Office mark).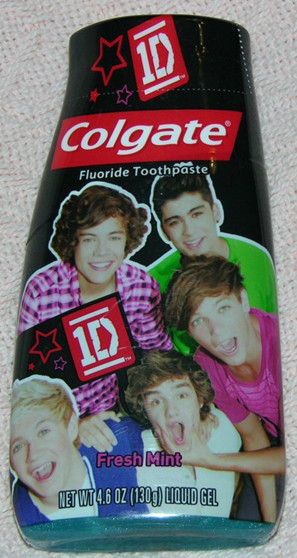 WINNER OF THE LAST PRIZE
Splat the Cat has been awarded to Bryce, a lucky fan from Bruce, SD. Coincidentally, Bryce from Bruce is another book by Rob Scotton. Congratulations, Bryce!